If you're planning a bathroom renovation, you may be thinking about replacing your bathtub with a brand new one. But you also have the option of refinishing or reglazing your existing bathtub. What's the best choice? In this blog from A-1 Tub and Tile Refinishers, we'll discuss everything you need to know.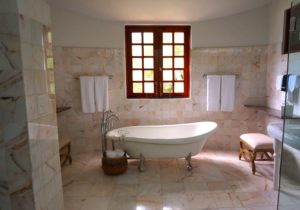 Should I Refinish Or Reglaze My Bathtub? The Top 3 Signs
Bathtub refinishing and reglazing is the process of stripping the current finish from your bathtub, and replacing it with a brand-new finish – which can even be a different color and texture. Here are a few signs this might be right for you.
You're on a budget – Refinishing or reglazing a bathtub is always a lot cheaper than getting a new tub, so it's a good option for renovators on a budget.
You like your current bathtub – If you like your tub and you just wish it was a different color, or it's seen a lot of wear & tear, you can keep it but restore its appearance with a refinishing or reglazing project.
You're not making major changes to your bathroom – Not planning on moving the tub or reconfiguring the bathroom? Simply refinishing or reglazing the tub is a good option.
Should I Replace My Bathtub? The Top 3 Signs
In some cases, you may want to completely rip out and replace your existing tub with a new one. Here are a few signs this may be a good option.
You hate your existing tub – Hated your tub since you moved into your home? Opt for a replacement. Simply refinishing it won't be a good choice, since the overall shape and style will remain the same.
Your tub is very old, damaged, or outdated – Seriously damaged or worn-out tubs may not be ideal for refinishing, and if the style is outdated or won't suit the style of your new bathroom, it may be time for a replacement.
You're doing extensive renovations – Moving your tub? Changing the position of your sink and vanity? This is a good opportunity to completely replace your tub with a new one, if you want to modernize and update your bathroom.
Interested In Refinishing Or Reglazing? Contact Us Now!
At A-1 Tub and Tile Refinishers, we specialize in reglazing and refinishing tubs of all types in New Jersey. If you think your bathroom could benefit from a new finish, just give us a call at
908-705-2999, or contact us online.
Related Reading about Bathtub Refinishing