If your tile looks a bit outdated, but it's still in good shape and you'd like to avoid investing thousands of dollars in new tile, you're in the right place. In this blog, A-1 Tub & Tile Refinishers will discuss a few strategies you can use to update and modernize your bathroom tile – without paying for replacements!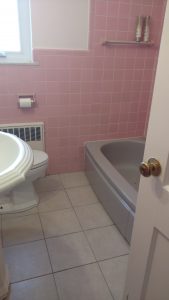 Paint The Tile With Urethane-Based Paint To Refresh Its LookUrethane-based paint will adhere well to most types of porcelain tile, and painting your tile can be a cost-effective and fast way to update your bathroom tile, though it's quite time-consuming if you do it yourself. You can choose a single color, or use multiple colors to create unique mosaic patterns – the only limit is your imagination! 
Paint The Grout To Update Your Bathroom & To Seal It To Prevent StainsYou can also paint your grout to make your bathroom look a bit more appealing. This is a relatively new trend, and while most people choose white grout paint, it's available in lots of different colors.Best of all, this paint also helps you seal up the grout to keep it durable, and prevents future grout stains. This can really revitalize a bathroom with nasty, stained grout – without requiring you to replace the grout and tile completely. 
Reglaze Worn-Out Tiles To Restore Their Beauty & DurabilityReglazing uses a thin layer of special glaze that's applied to your bathroom tiles by the professionals at A-1 Tub & Tile. We clean and etch your tile, then spray this glaze, which completely recolors and seals your bathroom tile, leading to a brand-new look – at a fraction of the cost of new tile. 
Refinish The Tiles To Completely Transform Your BathroomTile refinishing is similar to tile reglazing from the A-1 Tub & Tile, since the same basic process is used – a thin layer of enamel is sprayed onto the tiles to completely seal them, recolor them, and make your bathroom look amazing.However, the initial preparation steps are much more involved, so this is much better for worn-out tiles. The tiles and grout will be cleaned, chips will be filled in, and cracks and other damage to tiles can be addressed. Then, the enamel is applied to transform your bathroom tile completely.
Get A Consultation With A-1 Tub & Tile Refinishers Now!
At A-1 Tub & Tile Refinishers, we're experts in tile reglazing and refinishing in New Jersey, and we're always here to help you transform your bathroom. Contact us online or call now at 908-705-2999 to schedule a no-commitment consultation with our expert team.
Related Articles about Bathtub Painting