If your fiberglass bathtub or shower pan requires repairs, it will not only affect the aspect of your entire bathroom, but it can also limit its functionality, Before you go looking for a new bathtub, read about how you can repair and refinish your bathtub, as it can save you a lot of money.
You have two options to repair a fiberglass bathtub: do it yourself with store-bought repair kits, or hire a specialized company to do it.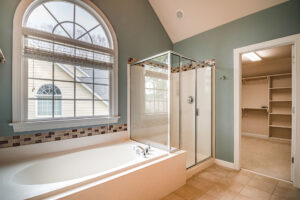 DIY Project
In some cases, the type and extent of the damage can be handled at home with the help of a simple epoxy kit, or by using a few tools that most of us have around the house.
You can fix almost all kinds of damage to a fiberglass bathtub with epoxy paste/putty. Besides that, a repair kit usually contains sandpaper of different grains, liquid hardener, protective gear, colorant, and finishing polish. Bigger cracks or holes will also require fiberglass mesh to support the epoxy patching.
Once you've purchased your kit, take a day off for your repair project. It takes time for the materials to harden between steps.
You may need to reinforce the damaged area first. You can do it by applying two-component foam in pre-drilled holes, creating a solid surface to work with.
Once the area is reinforced, it's time to use a fiberglass mesh and epoxy to cover the hole/crack. After the resin has dried completely, level and smooth it out with sandpaper, and finish it with a special polish.
Hire a Professional
If your project seems too complex to handle yourself, or if you don't want to risk anything going wrong, it's best to hire a professional. In some cases, a DIY project is worth trying, but when you have a vintage tub that you want to recondition, or if you can't settle for anything less than flawless, let the professionals do their magic.
Hiring a specialized company can also save you money. First of all, you don't risk making any costly mistakes. Moreover, the repair is guaranteed to last. The final result will look as good as new, and you will have more freedom of choice when it comes to the colors and finishes used since a professional is better equipped and gets a wide range of materials from their suppliers.
If you're looking for a professional refinish done by experts, contact A-1  Tub & Tile Refinishers, LLC. You get a free estimate for your project and you'll have the guarantee that the final result will look pristine.
Related Articles about Bathtub Refinishing