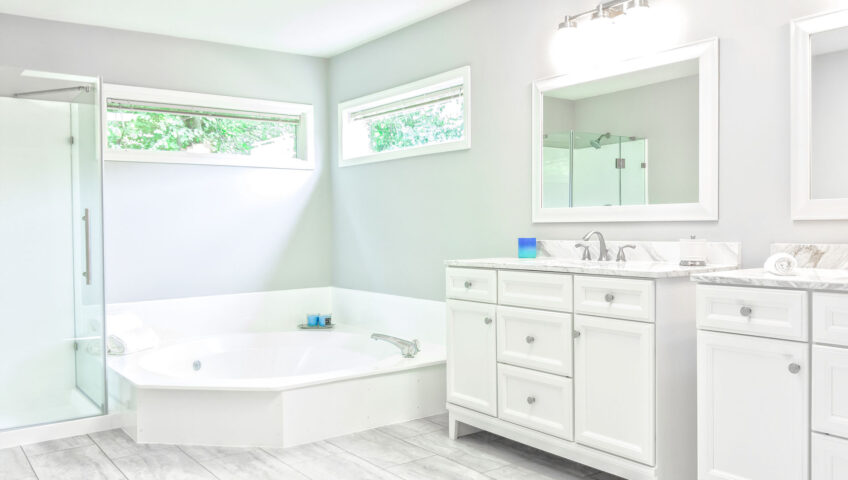 At A-1 Tub and Tile Refinishers, reglazing bathtubs is our specialty – so we have a lot of experience cleaning and caring for reglazed bathtubs. Wondering how to keep your newly-reglazed bathtub clean, sparkling, and beautiful? Let's look at a few simple steps you can take to get the best results.
Avoid Abrasive Cleaners To Keep Your Tub Looking Good
First, you need to make sure you don't use abrasive cleaners to clean your tub. This includes things like Scotch-Brite pads, Mr. Clean Magic Erasers, steel wool pads, sponges with an abrasive side, and other powdered, abrasive cleansers like Bar Keepers Friend. These harsh abrasives can damage the glossy finish of your new tub. You should also avoid caustic cleaners like bleach and ammonia.
Instead, opt for a non-abrasive liquid cleaner like Scrubbing Bubbles, Formula 409 (bleach-free), and Lysol Basin Tub And Tile Cleaner. This will provide you with the best results.
Your Step-By-Step Guide To Cleaning A Reglazed Bathtub
All you need to clean your tub is a liquid cleaner, a bucket, and a sponge, soft-bristled nylon brush, or a rag. Here's what to do.
Rinse it out – Use warm water to rinse away soap residue and hair and to prepare the tub for deep cleaning.
Lather on the cleaner – Pour your cleaner onto the tub's surface. Spread and lather it generously with your rag, brush, or sponge.
Let it sit – The cleaner should sit for at least 5 minutes for maximum power. This also helps disinfect your tub if you're using disinfecting cleaner.
Scrub vigorously – Get in there and scrub vigorously with your brush, rag, or sponge, cleaning the entire tub thoroughly.
Rinse the cleaner away – Rinse the tub to remove any traces of cleaner. Leaving cleaner on the surface of the tub can damage its finish.
As a final step, you could also dry the tub with a towel and buff the surface. But this is only necessary if you want to restore its shine, which may not be necessary after every cleaning.
Need Help With Your Bathtub? Contact A-1 Tub & Tile Refinishers Today!
At A-1 Tub & Tile, we specialize in bathtub refinishing and reglazing. If your tub is looking worse for the wear, don't replace it! Contact us online or call us at  908-705-2999 to learn more about what we do, schedule an appointment, and restore your tub to its original beauty. Our team of experts is always here to help.
Related Articles: