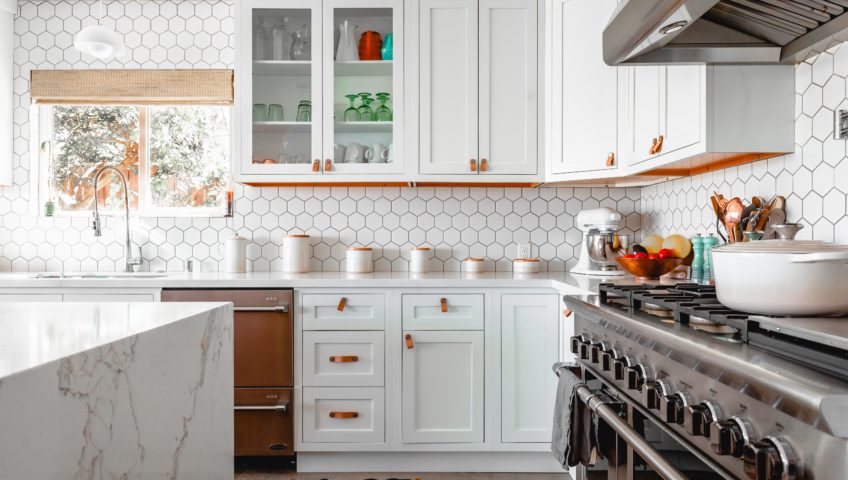 The kitchen is the heart of every home—it's the place that people always seem to gather. So, it's no wonder why so many people fixate on making their kitchens as appealing as possible, and here are some of the simplest ways to do just that.
Give Countertops a Facelift
Countertops are one of the first things anyone notices when walking into a kitchen. If yours are outdated or pulling away, it's time to give them a makeover. You don't have to invest in granite, but a new countertop will do wonders for the overall look of your kitchen.
Pay The Backsplash Some Attention
A tile backsplash is a trendy design element whose function matches its fashion. Still, if it's been a number of years since that backsplash was installed, it could probably use a reglazing to return to its former glory.
Invest in New Flooring
There's nothing more off putting than dated flooring. Often it's impossible to fully clean, and it drags down the entire aesthetic of the room. Hardwood and tile are both excellent (and frequently cost effective) options that can transform the room.
Make Appliances A Priority
The latest and greatest appliances aren't necessary to improve a kitchen, but some that are at least somewhat current can really make a difference. Plus, a matching refrigerator, microwave, and dishwasher add a sense of continuity to the kitchen.
Follow A Cohesive Plan
Look at your kitchen and decide whether it appears to follow a fully fleshed out design plan. If not, think about what you need to add or subtract in order to create that sense of design.
Add A Little Flair
The same design elements used in the rest of your home apply to the kitchen, too. Looking to add a little pizzazz? Use wallpaper to create a statement wall, or incorporate some quirky vintage pieces.
Turn Your Attention to The Ceiling
Hanging pots and pans above a kitchen island or range is a space-saving hack that also happens to look great. These racks are easy to install, and add an element of sophistication.
Get Creative with The Cabinets
Are you hyper-organized? Consider taking the doors off of your cabinets for an open concept design. Are you less than confident you'll be able to maintain that level of categorization? Simply paint the cabinets or swap out the fixtures.
Keep Things Clean
You obviously don't want to litter your kitchen with dirty dishes, but if your sink itself is looking a little grimy, it could be time to turn to reglazing to clean things up overall.
Cut Back on Clutter
Your kitchen is full of cabinets for a reason—don't line countertops with unnecessary items that could be stored in a cabinet easily. This will create an overall sense of calm and coordination.
The kitchen may well be the most important room of the home, so make yours shine with some simple updates. Give us a call at 908-705-2999 or send us a message for an expert opinion on improving your kitchen.
Related Articles: