Thinking about remodeling your bathroom in New Jersey? Not sure how much you should spend on your bathroom renovation project? In this guide from A-1 Tub and Tile Refinishers, we'll discuss the basics, and help you decide how much you should invest in your bathroom.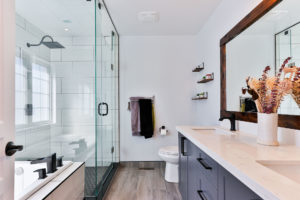 The Average Cost For A Bathroom Remodel In The US Is $10,000
According to HomeAdvisor, you can expect to pay around $10,000 on average for a bathroom remodel. However, this can vary quite a bit based on your location, the type of remodel you're doing, and the contractor you choose, among other factors.
The costs can also easily be much higher or lower, depending on the project – for a major overhaul of your master bath suite, you could spend $30,000 or more, but for a more economical renovation of a few bath fixtures and flooring replacement, you may spend as little as $5,000.
So, how much should you spend on your project? The answer is "it depends." If you have a lot of spare cash and want to create a truly unique bathroom space, you may want to invest more in your bathroom. On the other hand, if you're on a tight budget, you may want to take steps to reduce the cost of your project.
How Can I Keep The Costs Of My Bathroom Remodel Down?
If you're thinking of remodeling your bathroom but you're not sure if you can make it work with your budget, here are a few ideas you can use to keep the costs of your remodel down.
Look for second-hand building materials near you to find flooring, plumbing fixtures, and other essentials for a low cost
Replace your light fixtures with bright, high-quality lights to make your space feel more open and airy
Refinish your bathtub or shower instead of replacing it to save a lot of money
Avoid installing new plumbing fixtures that will require running new pipe in your home
Repaint your bathroom on your own instead of hiring a professional
Repair grout and replace broken tiles individually instead of replacing all of your floor or wall tiling
Need Help With A Bathroom Remodel? Contact A-1 Tub And Tile Today!
At A-1 Tub and Tile Refinishers, we can help you restore your tub, as well as other bathroom elements like countertops and ceramic tile. Refinishing your bathroom can help you save a lot of money while still getting a beautiful, comfortable space. Contact us now to get started.
Related Articles Bathtub Painting