There's nothing better after a long day than relaxing in your bathtub and soaking up all that warm water. But for many homeowners, the sight of their tub may be anything but relaxing. While clawfoot tubs definitely bring a touch of class to any bathroom, they are still prone to all the issues of a classic bathtub: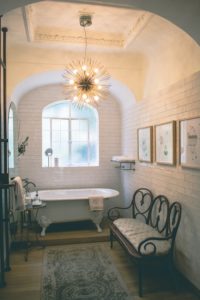 Chipped paint;
Deterioration;
Lost shine.
So you may be thinking: is it worth it to refinish a clawfoot tub or are you better off just buying another one?
Depends on the Tub
First, let's look at what each process involves. For one thing, replacing your existing bathtub isn't necessarily the easiest route' as some people would assume.
Doing it almost always involves cutting it into pieces to fit through your doors unless your bathroom doors are huge and can fit the tub. Then it's the cost of a new tub, which can range anywhere from $500 to $2000, depending on the type of material you want, new paint coat to make it match the rest of your bathroom, and even overall quality. If you're thinking of switching from a clawfoot tub to a standard one, go ahead and pencil in some thoughts about the plumbing and any labor expenses.
Then, there's refinishing your existing tub, which usually involved three processes:
Stripping the old finish, and sanding the tub until the surface is smooth;
Repairing any cracks, rust spots, or holes;
Applying multiple layers of coating and sealant, which in the end can make it look like new.
This process can cost between $200 to $900, depending on the size of the tub and how much work it needs.
So Which One Should You Go for?
Refinishing is generally recommended to those really old clawfoot tubs that can be considered vintage pieces, or really valuable ones. If your current tub doesn't fit that description, and you got it from Ikea, refinishing it may not be worth the effort. Refinishing is usually done on tubs made from very high-quality materials that can withstand all that labor. A modern one, which is made from lower-quality products might even crack because of it.
If You're Going to Refinish, Call in the Pros
You can find tub refinishing kits for as little as $20, but if you want to do it right, you need to call in the pros. Give A-1 Tub and Tile Refinishers a call now!
Related Reading about Bathtub Refinishing