Fiberglass tubs are lightweight and durable, but over time, they can be susceptible to cracking, particularly if a heavy object is dropped from a height. If your fiberglass tub is cracked or broken, you may think it needs to be replaced. But in most cases, it can actually be repaired by the pros at A-1 Tub And Tile Refinishers.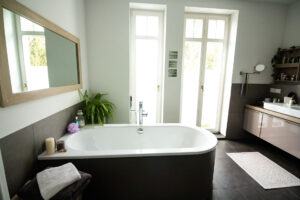 Fiberglass Tubs Can Be Repaired – Try To Catch The Issue Early!
Fiberglass tubs can be repaired if the damage is not too extensive, so it's critical to get help as soon as you notice the issue. A minor dent or crack can easily grow larger if you don't repair it right away – eventually resulting in complete tub failure, and the need for a replacement.
So as soon as you notice a crack or damage in your fiberglass tub, make sure you contact the pros at A-1 Tub And Tile Refinishers to get the help you need to repair your tub – it's a lot cheaper than replacing the entire tub!
Some Types Of Fiberglass Tub Repair Can Be Done With A DIY Kit
Fiberglass tubs are usually repaired using epoxy resin, as well as fiberglass mesh. The tub is simply sanded and prepared, then the resin is applied over the mesh to create a strong, durable finish, and cover up the cracks and protect the tub from future damage.
If you have some basic DIY skills and at-home tools, you can pick up a few supplies and handle the job on your own. However, this can be difficult and time-consuming, so most people hire professionals to restore their tub.
Professional fiberglass restoration can be used to restore larger damaged patches, and ensures that your tub will look and feel brand-new. Even if you hire a pro, the cost of repairing your tub will be much lower than ripping it out and replacing it with a new tub – so fiberglass tub repairs are a great investment.
Need The Help Of A Professional? Contact A-1 Tub And Tile Refinishers
At A-1 Tub And Tile Refinishers, we can help you with a fiberglass tub repair if you'd prefer professional repairs over a DIY job. As experts, we can repair and recondition your tub, and even refinish it to make it look brand-new. Contact us online or give us a call at 908-705-2999 to schedule your appointment right away.
Related Articles about Tile Reglazing