Looking to update your bathroom without spending an arm and a leg? You might be wondering if porcelain bathtubs can be refinished instead of replaced. In this blog from A-1 Tub & Tile Refinishers, we'll discuss everything you should know.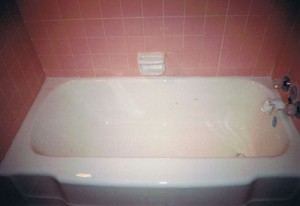 Refinishing Porcelain Bathtubs Is A Great Option
First, let's answer the main question! Yes! You can refinish a porcelain bathtub. Whether your tub is stained, chipped, dull, or is hard to clean, you can refinish it to make it look great – without paying to replace the entire thing!
The process is simple. A professional tub refinishing company like A-1 Tub & Tile Refinishers will clean the tub, strip away damaged material, and then apply a few layers of primer and other specialized coatings. Then, a layer of sealant will be applied to complete the process and restore the appearance of your tub.
Usually, you can have your tub completely refinished in just one day, so this is a great option if you want to update your bathroom without spending a lot of time and money on a replacement.
The Benefits Of Refinishing Your Tub Instead Of Replacing It
Why both refinishing your tub instead of replacing it with a new one? Here are just a few reasons.
Save time & money – It costs much less to have your bathtub refinished and the process is faster, since you don't need to worry about buying a new tub, hiring installers, paying to have your old tub hauled away, and other such issues.
Restore vintage tubs – If you have a beautiful vintage porcelain tub that's seen better days, you can restore and refinish it to bring it back to life – and keep it in your bathroom!
Refresh the look of your bathroom – Refinishing your tube is a great time to change its color and finish and update it to refresh the look of your bathroom. Whether you only refinish your tub or you want to completely overhaul your bathroom with a full-scale renovation, bathtub refinishing is a great first step!
Contact A-1 Tub & Tile Refinishers For Expert Porcelain Tub Refinishing Service
Ready to refinish your tub? Don't want to go it alone? A-1 Tub & Tile Refinishers is here to help in New Jersey. Contact us online or give us a call at 908-705-2999 to discuss your project and get the tub refinishing services you need to restore your tub and your bathroom.
Related Articles about Bathtub Refinishing Morristown: