Looking to refurbish a tile shower? Not sure what your options are, or what the process may involve? In this article from A-1 Tub & Tile Refinishers, we'll help you explore the basics. Read on, and learn everything you need to know.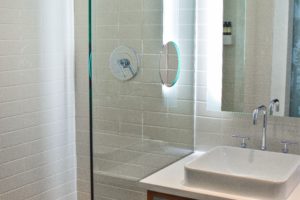 Deep Cleaning Your Tile Surfaces
This may be used as the first step of a more serious refurbishing project, or as a standalone service to restore your shower's natural beauty. This process usually involves using a pressure washer and specialized cleaning compound to blast away grime, dirt, mildew, and buildup from your tiles.
Once your tile surfaces are clean, you can choose to continue refurbishing your shower. Or, if you're satisfied with its appearance, you can stop the refurbishing process here. 
Refinishing, Resurfacing & Reglazing Tile
The process of resurfacing, refinishing and reglazing tile is a great way to change the color of your tile and restore your bathroom without removing the tile and demolishing the entire shower. Usually, your tile will be cleaned, sanded and repaired to remove any chips or damage.
Then, a specialized glaze or resurfacing product will be applied to the tile, creating a unique and durable finish, and changing the appearance of your shower. This process also often enhances the durability and water resistance of your tile.
Scratch & Chip Repairs

Over time, shower tiles tend to become chipped, scratched and damaged. Your tile shower refurbisher can use unique repair compounds to fill in these cracks and chips, and restore the natural, smooth appearance of your shower tile. This is typically done in conjunction with tile refinishing, resurfacing or reglazing.
Tile Regrouting
If your grout is peeling away and has seen better days, tile regrouting should definitely be a part of your tile shower refurbishing project. A company like A-1 Tub & Tile Refinishers can easily remove old grout, clean between your tiles, and apply new grout of your choice. You can even choose from a variety of different grout colors to customize the appearance and style of your shower.
Know What To Expect When Refurbishing A Tile Shower!
Depending on your project, your tile shower may need one or all of the above services. For more information and to get a quote for your shower refurbishing project, contact A-1 Tub & Tile Refinishers Now.
Related Articles about Bathtub Painting