10 Design Tips for Better Small Bathrooms
When buying a home, you probably didn't get too picky about the size of the bathroom. As time goes on, though, a small bathroom can start to feel pretty restrictive; here are some design tips to stretch that square footage into a space you love.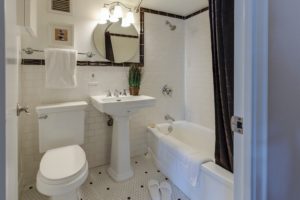 Create The Illusion of More Space with Mirrors
There's a reason that a funhouse full of mirrors seems to continue on forever in every direction—a few well-placed mirrors will work together to trick your mind into feeling less cramped. Try placing a large mirror above your sink, and a full-body mirror on the opposite wall.
Add A Pop of Character
A little something out of the ordinary can breathe a whole lot of life into a bland space, particularly one that's marked by its size. Consider throwing in a backsplash with creatively patterned tile, or using a vanity painted a bright color.
Update The Paint
Trends come and go, and bathrooms seem the most common victims of fleeting trends since they're a low-traffic area to try them out. Be a bit scrutinizing of your current color, and ask if it could use some updating. Going all white can make the room feel larger.
Take Note of The Flooring
More likely than not, your bathroom flooring is tile. Is that tile a leftover vestige from the house's original design? Is the grout looking stained and unsightly? These are small details that can pull the attention of everyone who enters your bathroom, so consider refinishing that tile.
Focus on The Fixtures
There's no better dead giveaway for a bathroom's age than the condition of the sink and tub. In a small bathroom, worn fixtures are all the more distracting since there isn't much else to look at. Invest in having your tub and sink reglazed, and the whole room will feel updated.
Reconsider The Hardware
One of the easiest ways to add some dynamic character to a bathroom is to simply swap out the hardware. Fresh handles on bathroom cabinets and an updated faucet will go a lot further than you might imagine.
Contemplate A Major Remodel
If you have the time and resources to dedicate to a major overhaul, you might want to think about how your bathroom could benefit from a remodel. How might rearranging the fixtures change the flow of the room? Is it worth it? Be sure to have a plan in mind and work with a professional.
Less Is More
Bathrooms often get cluttered with the items that don't seem to fit in anywhere else, but this can make a small bathroom feel extra overwhelming. Keep the furniture to an absolute minimum, and try to take on a simple style.
Save Space with Flush Furniture
There are certain furniture pieces, like a place to store towels and other hygienic pieces, that simply can't be avoided. Look for furniture that hangs from the wall or sits quite close to the wall to maintain as much usable space as possible.
Make Friends with High Places
Just because a space is small doesn't mean it has to feel cold. If you're a fan of houseplants or other small design elements in the bathroom, simply install some shelving above head-level to place these items.
A small bathroom doesn't have to mean an uninviting one if you utilize some of these easy design tips. Reach out to A-1 Tub and Tile Refinishers for an expert opinion on how to improve your small bathroom.
Related Articles about Bathtub Painting
We are a bathroom remodeling company in NJ area. We offer a wide array of services such as bathtub painting, tile painting and refinishing.