What can Bathtub Reglazing Fix
Bathtub reglazing is a great and affordable option for fixing and revitalizing your bathtub without having to buy a new tub or a bathtub cover. Often, when people think about reglazing, they first think about repainting a bathtub to make it look new. Although this is a major part of the process, tub reglazing also fixes physical damage issues that are unsightly.Tub reglazing works for these three major issues: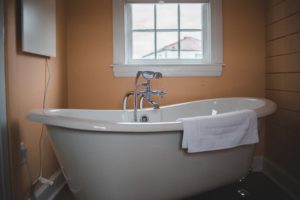 Stains: Old tubs tend to fade in colors and show stains. Even with regular cleaning, in time, you will be dealing with a yellowish discoloring. It is normal, but it is unsightly. The longer the problem goes untreated, the more likely the stain is to grow and change color. The only way to fix this is to sand and then repaint.
Scratches: certain scratches can be sanded and buffed out. After the best bathtub reglazing South Orange, your tub should look new and feel perfectly smooth. Deep scratches are more difficult to get out without creating further damage to your tub.
Minor Holes: small holes can be filled and then painted. Once finished, there will be no leaking and no way to tell where the hole initially was.
Bathtub Reglazing
If you hate the color of your tub, or you just want to have your tub fixed and resurfaced, reglazing is the best option for you. Replacing a tub is costly and takes time, and that is the same case for using bathtub insert. If you are ready for a new tub without buying a new one, reach out for the best bathtub reglazing South Orange has to offer you.
Related Reading