What Is the Difference Between Reglazing and Refinishing a Tub?
As a homeowner, you know what the major details of your home give it its value, and it's the items and fixtures we use daily, but can't easily replace. Your bathtub is one of those examples, as it is the centerpiece of a bathroom and will dictate both its look and value.
If your bathtub is not in top-notch condition, your bathroom won't only look worse, but it can also need repairs if you don't solve the problem right away.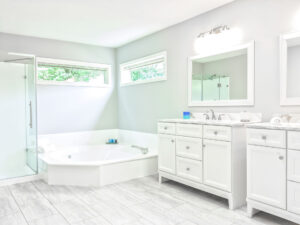 Replacing your bathtub can leave a big hole in your budget and it involves a lot of hassle and stress. Fortunately, there are affordable, super-effective alternatives to that, and this is what we at A-1 Tub and Tile Refinishers are best at.
Are bathtub reglazing, refinishing, or resurfacing all terms you might've heard of, but you aren't quite sure about the difference between them? Let's break down the differences between two of our most popular services: reglazing and refinishing.
Bathtub Refinishing
Refinishing a bathtub refers generally to recondition it by fixing imperfections and damage. When you see this service listed by a professional company, it will most probably refer to repairing minor flaws like small scratches and chips.
Refinishing is done by using an enamel-based paint (or acrylic, for some bathtubs) that is used to cover the imperfections. This is a project that many DIYers have nailed, but also that was failed terribly by many others.
If you want to make sure the final result is seamless and perfectly executed, don't hesitate to hire an expert to do it. It won't cost much, and it's a guaranteed result.
Bathtub Reglazing
Reglazing, on the other hand, is done when the entire enamel of a bathtub is grinded out and then replaced with new coats of enamel or epoxy. This is a bigger job than refinishing and it takes a bit longer, but it gives amazing results, especially with older bathtubs that were affected by time water damage, and other factors.
Reglazing is one of our favorite services because our customers are simply amazed by the results and very happy to get a bathtub that looks brand new without actually having to replace it.
Does Your Bathtub Need a Makeover?
If you have a chipped, cracked, scratched bathtub and you would like to get rid of the eye-sore but it's not time yet to buy a new one, give us a call at 908-705-2999 or contact us online for a free estimate. Send us pictures or schedule an in-house visit and we'll find the best solution for it.
Bathtub Reglazing