The Do's and Don'ts of Tub & Tile Painting in Union, NJ
Many A1 Tub and Tile clients inquire about their tub or tile care after its refinished. First, the glaze we use – ULTRA GLAZE- is the most durable glaze. You cannot buy it in a store or online. It is an exceptionally durable glaze, but it needs to follow specific care instructions like any finish. Always trust the best tile refinishing Union NJ has to offer.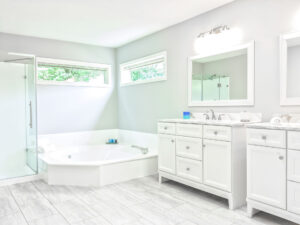 We recommend using liquid soap, such as Dawn, with a soft sponge to wipe the tub and tile down simply. No elbow grease should be needed. Other acceptable cleaning products are any organic liquid soaps commonly found in supermarkets. Microfiber pads are also great for applying whatever cleaning product to the surface. More importantly, your tub needs to be cleaned at least once a week. ULTRA GLAZE will never fade or dull no matter how often it is cleaned.
We always recommend staying away from anything abrasive, which will scratch the surface of tile refinishing in Union. You should not use Brillo Pads, Comet, and Ajax for cleaning. Bleach-based products will also harm the finish by discoloring the glaze.
You should not use suction cup mats because they will peel the finish off the bottom of the tub. There are non-suction cup mats on the market that can be purchased online explicitly made for glazed Tubs. Remember to remove them after a shower as they will trap water underneath, which will harm the finish over time.
Lastly, it is crucial never to allow leaking or dripping downspouts to continue. Maintenance of your plumbing fixtures is necessary as water can cause damage to any tub if not correctly repaired.5
If you follow these simple steps, you will enjoy your refinished tub and tile for many years.
Reading Reading about Tile Refinishing