Not all Reglazing Coatings are Created Equal
Most A1 Tub and Tile clients, when inquiring about our services or getting an estimate for reglazing, rarely ask about the coating being applied. Many years ago, most, if not all, reglaze coatings were epoxy-based. Epoxy was thought to be stronger and more durable than any traditional paint or coating. However, we at A1 Tub & Tile discovered epoxy coatings turn "yellow" over time. Also, the VOCs emitted from epoxy-based coatings were much higher.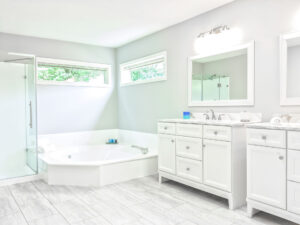 Around 2009, A1 Tub and Tile pivoted from applying an epoxy-based coating to a urethane acrylic coating. A urethane acrylic coating is easier to apply, safer to use, and doesn't ever fade or change color. The biggest challenge was finding a vendor to provide a quality coating. We were striving to offer the best possible bathtub refinishing Union NJ has to offer.
Not satisfied with what was available locally, A1 Tub & Tile researched coating manufacturers to make our coating. We found a company in Connecticut that makes coatings for the boating industry. After much experimentation and tweaking, we came up with our coating "Ultra Glaze" (proprietary to A1 Tub and Tile only). It is a urethane acrylic coating that meets our requirements to be more durable, emit less VOCs, and it contains a gloss finish that most clients want.
Today, Ultra Glaze is applied on all A1 Tub and Tile's bathtub reglazing applications. Our clients, who have had reglazing jobs done previously, have remarked on the difference they see with Ultra Glaze vs. whatever a competitor had previously used.
Related Reading about Bathtub Refinishing