Are you looking to revitalize your bathroom without going through a costly and extensive renovation process? You have many different options for updating and bringing new life to your bathrooms without making any major changes. Bathroom refinishing and bathtub reglazing are great options for your home and your wallet in Morristown.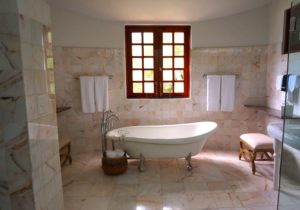 What does bathroom refinishing include?
Bathtub Refinishing/Bathtub Reglazing: old bathtubs suffer from two main issues; they are either painted an ugly color or cracked and chipped. In essence, tub reglazing is like giving your tub a fresh coat of paint. Design choices in the 70s and 80s do not necessarily hold up today. It was common for people to use pastel colors, like yellow, pink, and blue. Tub reglazing can be done in almost any color (even turning pink to white).
With time, grout breaks and becomes discolored. Old, dirty grout makes a bathroom look rundown. There is little a person can do once grout begins to get discolored. Regrouting is a small job that adds so much value to your home. Your bathroom looks much different with just this small job.
Painting goes so far for making your bathroom look beautiful and new. The difference a new coat of paint adds is the difference between night and day.
Bathtub Refinishing Morristown
Cracked, dirty, and broken tile is an eyesore. With professional help, you can replace old tiles and make your bathroom look perfect and new. Even the smallest of cracks can make your bathroom unpleasant to look at.
Related Reading