Bathroom Remodel Ideas for Small Bathrooms
It is one of the most common questions for those considering any kind of remodel: how can I maximize my space?
More often than not, homeowners wish they had more space in just about every room, but a small bathroom is a particularly sore pain point. Everything from showering to simply brushing your teeth can feel cumbersome when you don't have the space to move freely.
If you find yourself in this camp and would like to upgrade your bathroom while creating space (or at least the illusion of space) at the same time, here are a few tips to help you create a design plan before taking the plunge into remodeling.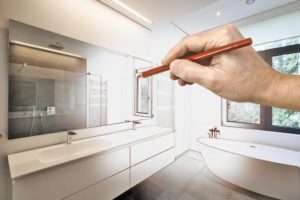 Swap out a countertop for a pedestal sink
Counterspace is obviously a great thing to have, but not always when it comes at the expense of moving freely within your bathroom. This is a way to genuinely create a few extra feet in a small space, so weigh the pros and cons of a move like this. If space is your largest concern, it could make a big difference for you.
If you're feeling crowded every time you walk in the bathroom and think your space may be too crowded by a bulky countertop, consider a smaller sink option with a wall-mounted cabinet to hold your bathroom items. If a pedestal sink feels like too big a plunge, simply explore some smaller countertop options.
Choose a light colored tile

There is a reason that so many bathrooms shy away from dark or bold colors for flooring in particular: a light flooring will help the space appear larger, and this is particularly true when you're short on square footage.
A light colored tile will help your bathroom feel more open, which will in turn give the room a larger feel. If the all white aesthetic isn't for you, you can get creative with patterns or even grout color.
Utilize mirrors

If you have spent much time decorating your home, you know that reflective surfaces help spaces appear larger. Most all bathrooms feature a mirror above the sink, but if you're looking to feel less crowded in your bathroom, consider wall mounting a full length mirror as well.
A wall mounted mirror will reflect the opposite side of the room to trick the mind into feeling less crowded—and sometimes that's half the battle.
Design tips like these can be applied to most rooms of the home, but they are especially useful in the bathroom. An experienced bathroom remodeler will be able to help you sort out which tricks of the trade are right for your particular space, but it's always good to seek help with an idea of what you would like already in mind.
If you're ready to update your small bathroom for a more comfortable experience, reach out and see what we can do for you.
Related Reading about Tile Painting